The Madness of the NFL Free Agency
For the French Version Click here.
The NFL season only lasts 4 months, a sad reality for football fans. Fortunately, the fun does not stop there. As soon as the regular season comes to an end, many NFL teams fire their head coaches and start looking around the league for a replacement. More often than not, their decision lands on a team still involved in the playoffs, something that can cause friction within the league (see: Josh McDaniels).
Once the coach-poaching is done, heads turn to the NFL combine. This past weekend we had many spectacular performances. From Saquon Barkley to Shaquem Griffin, stories and results from these future NFL stars made headlines, the majority of it being highly positive.
The combine now over, this is where the financial fun (or dilemma if your title starts with GM) begins. Teams had until 4:00 pm this past Tuesday to apply the franchise tag to one of the players on their team.
The franchise tag is a complex process, but monetary wise the tag is a one-year contract awarded to a player that the team usually was not able to sign to a new long-term contract. That one-year contract is either the average salary of the top 5 salaries at this position the previous year, or if it's higher, 120% of their last year's salary.
After the franchise tag deadline is passed, we move on to the free agency, which opens on March 14th at 4:00 pm. This year might be one of the most interesting in recent years. To put it boldly, there are plenty of high-profile players targeting the big bucks.
The first big name that comes to mind is Kirk Cousins. A quarterback of his caliber rarely ever hits the market, and with the latest quarterbacks getting astronomic new contracts (we're looking at you, Matthew Stafford, and your $27 million per year), he might be a much richer man a week from now. A rumor that came out a couple of days ago stated the Minnesota Vikings may be willing to give Cousins a 3-year, $92 million fully-guaranteed contract.
Obviously, this is gossip at its highest form, but if anything similar to this were to happen, it would break the internet. Cousins, a controversial quarterback, is considered by some as a top 8 at his position and by others outside of the top 15. If the rumours are correct, he would be getting close to $4 million more than any other quarterbacks in the league. This would be sure to make athletes with the last names of Brady, Rodgers, and Brees have a talk with their agents.
Stepping away from the quarterback market, other free agents might see a hefty raise in the following weeks. Two examples of this are Le'Veon Bell and Allen Robinson. However, these two players are in different situations.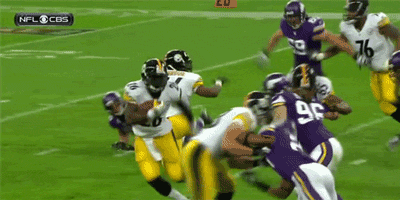 Bell was recently franchised tagged by the Pittsburgh Steelers for the second year in a row. If he signs the tag, it would grant him a one year salary of over $14.5 million, making him the highest paid running back. In comparison, the second highest paid running back in the league is Devonta Freeman, who will earn just over 8 millions next season.
You see the discrepancy between the two? Even with this possible astonishing salary, Bell is threatening to not play next year. This is because he wants financial stability. Bell knows that for a smaller yearly pay with a longer term, he could settle in a city, and not worry about external factors that could diminish his yearly salary, like injuries.
Robinson is another interesting case of decision making. He is just 2 years removed from having 14 touchdowns and 1,400 yards as a receiver for the Jacksonville Jaguars. He all of that for less than $1 million in salary, as he was still completing his rookie deal.
However, last year Robinson suffered a torn ACL in the first game of the season. The question now is: will a team sacrifice big money for a player who used to be top ten at his position, or will everybody be scared of the dreaded knee injuries that can ravage a player's career?
As you can see, being in charge of a team's salary cap is not all bread and butter. It means making difficult decisions, more often than not creating a bad relationship with a player to the benefit of the team. As much as sports fans all make upper-management decisions in their heads and criticize their favorite team on a yearly basis, would you really have what it takes to be an NFL General Manager?